July 30, 2015
Let the truth be known, one of the main reasons Monika and I wanted to visit Japan was to see the amazing Snow Monkeys. In the frigid valley of Japan's Shiga-Kogen (Shiga Highlands) near Nagano, the site of 1998 Winter Olympics, there is a thermal spring that has been discovered by a troop of Japanese Macaque monkeys. They are also known as the Snow Monkeys because they live in areas where snow covers the ground for months each year. No other non-human primate is more northern-living, nor lives in a colder climate, surviving winter temperatures of below -15 °C, (5°F). They have brown-gray fur, a red face, hands and bottom, a short tail and big ears, and often seem remarkably human-like.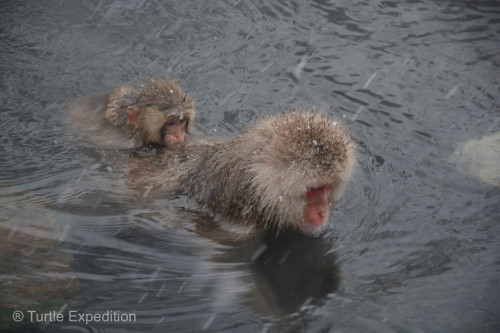 In 1964 the Jigokudani Yaenkoen Park opened. It is located in the valley of the Yokoyu River that flows down from the Shiga-Kogen. At an elevation of 850 m, (2,788 ft), surrounded by steep cliffs and hot water steaming out from the earth's surface, the area is called Jigokudani ("Hell's Valley"). The monkeys discovered the pool of warm water and made it their winter home. Free food too…..
A great way to travel through Japan is with the Japan Rail Pass. You need to buy it before you arrive in Japan. From Kanazawa, it took three train rides, a bus and finally a taxicab, (because an avalanche had closed the train tracks), to get to our accommodation in the Hakuba area. Dragging our luggage behind us through the snow we arrived at the Pension Ratanrirun, mostly frequented by skiers and snow borders. It was a cozy place with a Japanese style hot tub, bathroom down the hall and comfortable beds.
In the morning, getting an early start to avoid the crowds, a bus brought us to the trailhead for the Snow Monkey Park. From there it was a steep 40-minute hike up a treacherously icy trail to the hot pool where this particular troop of Japanese Macaques has made its hangout. For the first time during our two-year adventure around the world, we wished we had our MSR trekking poles and our Yaktrax traction clip-ons for ice and hard-packed snow, but of course they were packed safely in The Turtle V, now in the middle of the Pacific Ocean on its way to California.
We could tell you all kinds of wonderful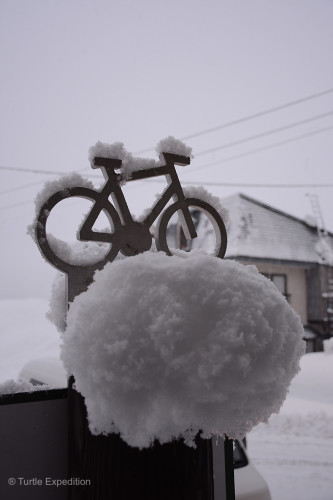 things about these amazing monkeys but the pictures are worth a thousand words. Just for fun we have included a caption here and there. The animals are so used to tourists; thousands come every year to see them. In the wild they spend most of their time in forests and feed on seeds, buds, fruit, invertebrates, berries, leaves, and bark. In the park they are fed rice in the winter by Park Rangers who watch over the crowd to make sure no one steps out of line. A sign at the entrance says it all:
 "You may think these monkeys are your long-lost relatives. They don't! Don't touch them."
That evening, delighted we had finally seen the famous snow monkeys, we walked through the neighborhood in search of dinner. Skiers were happy.  The snow was dumping hard. The air was crisp and the fresh powder was squeaking under our boots. It was a magical night, our last in Japan. A local bar served some excellent Sashimi, still a bit pricey. The restaurant that supposedly offered Kobe beef was already closed so we ended up eating the worst pizza we've ever had.
Trudging back to the train station in the morning in the dark, we caught a series of trains to the Narita airport in Tokyo for our flight to San Francisco. It was New Year's Eve 2014, the longest we have ever experienced (32 hours).
You may think that's the end of our journey. It's not. Without reverting to Greece where we left off with our blogs on our Around-the-World Adventure, we have to tell you first about Gary's birthday party. Stay tuned.